BLM Leader ARRESTED For Trying To Steal Confederate Flag From Protester
Police arrested a Charleston, South Carolina Black Lives Matter (BLM) leader after he tried to steal a Confederate flag at a protest Wednesday.
Muhiyidin d'Baha, the leader, attempted to seize the flag from a demonstrator by leaping over the yellow caution tape surrounding the protest, reports the Post and Courier.
Protesters came out against an event hosted by the College of Charleston that featured a speech by Bree Newsome, an activist and filmmaker. Newsome once climbed a flagpole to take down a Confederate flag at the South Carolina State House in 2015.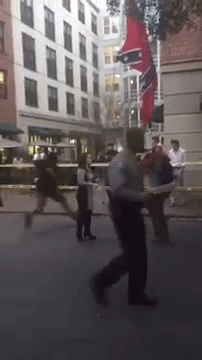 A live camera caught Moye trying to wrest the flag from the protester. Moye was eventually charged with disorderly conduct, according to Charleston Police Department spokesperson Charles Francis.
Showing Up For Racial Justice in Charleston, an activist group, has since taken to asking for bail money for Moye. They are trying to raise $8,000 to pay for it.
"HELP BAIL MUHIYYIDIN OUT! NOW!" the page reads, adding that it is dangerous for a black person to be in jail.