This New Picture Of Barron Trump Has Them All Dropping Their Jaws!
The internet is abuzz after a new photo of Barron Trump has emerged online.
Barron has been away from the public eye for quite some time and for good reason.
The left had a field day with lobbing threats of violence and hate at the youngster when his father, Donald Trump was president.
Now, it seems that since Barron is older, he is coming out of the shadows, standing tall, and I mean really tall.
The photo shows the younger Trump, standing next to a woman, but that is not what is causing the stir.
Take a look: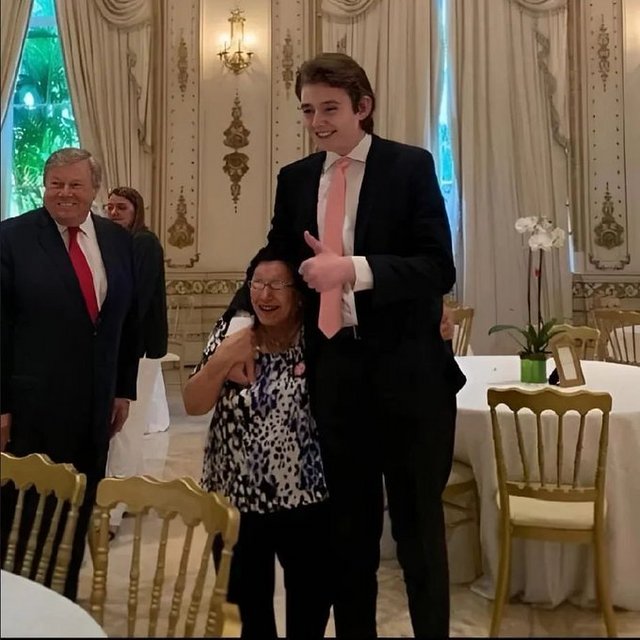 The photo appears to be from Mar-a-Lago and it shows a beaming Barron, standing a reported 6'7, with his arm around an older woman.
The lady in the photo doesn't even come up to his elbow!
I love Barron's smile, and is it just me, or does Barron look a lot like his brothers? I especially see Don Jr. in this pic.
Here's what people online are saying:
"If he ever joins the political stage he will be leader that stands above everyone else"
"Now that's MAGA tall, dark, and handsome."
"I believe Eric Trump is about 6'5", the whole family exudes health and success."
"I hope he plays basketball" 
"I bet he's really smart, and his grandparents taught him a lot of Slovenian !! He might Polka as well as I do !!!!!"
"Yep, apple doesn't fall far from the tree as the saying goes. Rotten trees (Biden) make rotten apples"
"Now THAT'S a kid!! WOW!" 
"I'd like to see him play basketball. He would have to be really tough-skinned though with all the haters out there."
"Most of the Trump family is tall. I would say they all carry it very well. Look at the difference between presidential sons Barron and Hunter. Your parents make all the difference. Bribem's kids never stood a chance. Rock on, Barron. I'd love to vote for you some day."
Height, success, kindness, and power run deep in the Trump family… and it looks like Barron is no exception!