This Little Boy Went Out With His Dad's Metal Detector, And Found Something Worth Millions…
Everyone has a childhood fantasy of discovering treasure. All of us have watched movies where a mismatched bunch of pals discovers hidden treasure. But one young guy made that wish come true.
The father and son team literally found gold and made a priceless historical discovery.
Surely the 3-year-old James Hyatt has just his "beginner's luck," If there's maybe such a thing.
The very first time James went treasure hunting was when his father initially brought him metal detecting one afternoon. But for James' granddad, since he has been searching for treasure for 15 years, it wasn't the first time. However, in his granddad's career being a treasure hunter, James his grandson had struck gold minutes into his first attempt at treasure hunting!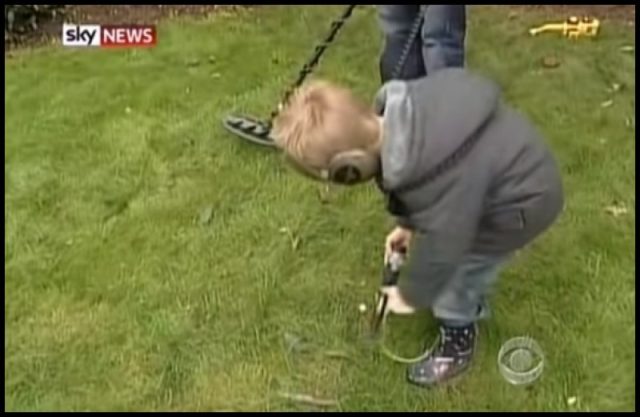 Jason Hyatt, who is the father of the little boy, said,
"James got a buzz after just five minutes. We saw a glint eight inches down and gently pulled the object out. Dad was blown away. He'd never found anything like it in 15 years doing his hobby. James was so excited to find treasure, though he's too young to realize its significance."
The detector began beeping as James was using it, signaling that there was metal beneath the area it was pointed at.
His father began to excavate. After about 6 to 8 inches of digging, he literally struck gold.
Little James remembered what had transpired, saying, "It went beep beep beep," explaining to the media, "then we dug into the mud. There was gold there. We didn't have a map – only pirates have treasure maps."
"We dug six to eight inches down and lo and behold, we got a flash of gold. I moved the earth around and brought it to the surface and there it was," said Jason Hyatt.
However, it wasn't an ordinary piece of gold.
It was a 16th-century locket believed to be embossed with an image of the Queen of Heaven and Earth.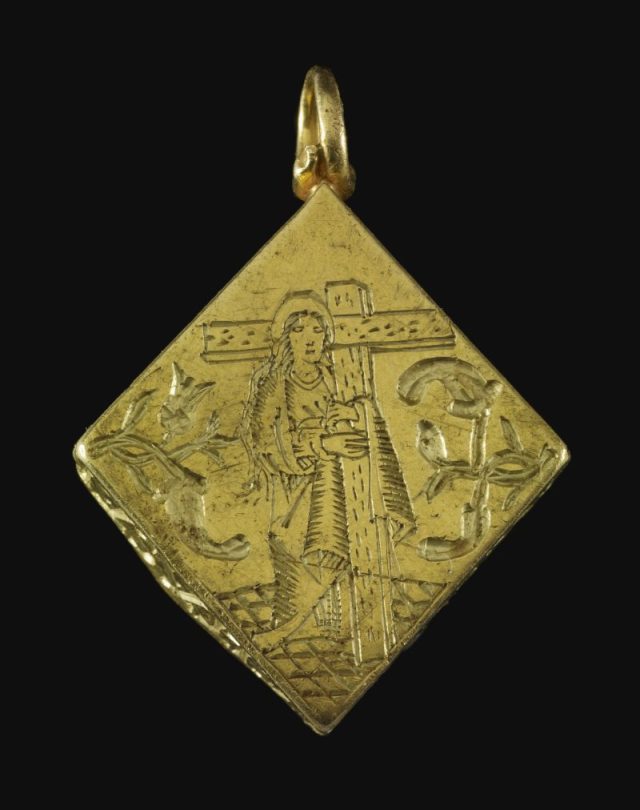 They had found a pendant that was about an inch wide. They were unaware at the time of the significance of the jewelry they had discovered. It was discovered after expert evaluation that it was a 500-year-old Virgin Mary pendant with a value of approximately $4 million.
The 73% gold pendant, which is assumed to be a reliquary, was discovered. A reliquary is a vessel that holds sacred artifacts connected to religious leaders or items with which they are affiliated. The Three Wise Men's names are among the several inscriptions on the diamond-shaped pendant. The sides of the pendant are etched with "Iaspar, Melcior, Baltasar."
The backs of the pendants include four sobbing symbols with eyes and an incision. The five holy wounds that Jesus Christ suffered are supposed to be represented by these inscriptions. According to experts, the locket dates to the reign of Henry VIII and may have belonged to a royal.
The pendant will be examined by a treasure-trove inquest, as is the case with any discovered treasure in the UK. The Hyatt family and the owner of the field it was discovered in will each receive a portion of the revenues from the sale of the artifact.
Watch the video below for more details:
Sources: Taphaps, cbsnews, dailymail