dan
December 13, 2018
Over 200 Illegal Aliens Arrested At ONE BORDER STATION In Under 48 Hours…
When liberals hear us talk about the fact that there are illegal immigrants flooding our country, they think that we are using some kind of crude hyperbole that a circus promoter might use when trying to get people to see the lion tamer.
Hardly the case. What is happening at so many border crossings in the United States is that they are getting inundated with illegals trying to get into the United States that the places that they are supposed to be processing these people just can't handle them all.
What's all the more ridiculous is that liberals want to have more and more of them come over so they can be a complete drain on the system.
That being said, there are Border Patrol stations that are so overrun that its almost like a gallon bucket in a monsoon in comparison.
Border Patrol agents assigned to the Ajo Station apprehended more than 240 Central American migrants who illegally crossed in a 48-hour period this week. The three groups are described as mostly family units.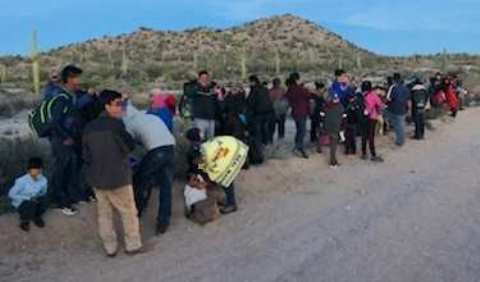 Tucson Sector agents assigned to the Ajo Border Patrol Station came upon three large groups of Central American migrants during a 48-hour period that began on Sunday evening. Agents patrolling near the Lukeville Port of Entry came upon the first group of 80 men, women, and children. Officials say most of the group were Guatemalan nationals.
During the overnight hours, Ajo Station agents intercepted two additional large groups. In the first incident, the agents apprehended 113–mostly Central American. Later in the shift, agents apprehended another group of 49 generally from the same region.
"Illicit transnational criminal organizations exploit the vulnerability of foreign nationals with false promises of legal status and encourage dangerous border crossings, placing lives at risk," Tucson Sector officials stated.
More than 100 migrants have been found dead at or near the Arizona border with Mexico this year, according to the Missing Migrants Project. Nationally, at least 373 bodies or remains were found along the U.S.-Mexico Border — an increase of more than 11 percent over the same period in 2017.