OMINOUS: U.S. POSITIONING NAVAL VESSELS OFF EAST & WEST COASTS; MASSIVE TROOP MOVEMENTS
Over the past four days, there have been MASSIVE movements of troops, equipment and supplies WITHIN the continental United States (CONUS).  Today (Tue.), the US Navy is positioning Aircraft carriers and their strike groups off both the US east and west coasts.  It appears we are preparing to defend ourselves from an invasion.  China?
Late Saturday, no fewer than 25 C-17 aircraft were in the skies over the USA, carrying troops and equipment from around the nation . . . ALL going to Nellis Air Force Base. (Story Here).
Also late Saturday, no fewer than 12 C-130 aircraft were also on the move, ALSO ALL heading into Nellis.
On Sunday, locals on and around Nellis reported the base was "swarming" with soldiers and Marines.  They also reported seeing a vast array of land fighting vehicles coming out of cargo aircraft.  (Article continues beneath Ad)
NAVAL DEPLOYMENTS
This morning, according the the US Naval Institute, the Navy has deployed THREE (3) Aircraft Carriers, plus a Landing Helicopter Dock (LHD) off the US West Coast, and TWO (2) Aircraft carriers and their Strike Groups plus another LHD off the US East Coast.
Off the West Coast is the USS Carl Vinson in the Pacific (NOT AT PORT) along the Oregon/Washington Border,
the USS Essex (LHD) off the coast of San Francisco,
and the USS Theodore Roosevelt and its Strike Group off the coast of Los Angeles . . .
Off the East Coast are the USS Dwight D. Eisenhower off the Coast of Connecticut,
the USS Gerald R. Ford off the coast of New Jersey,
and the USS Iwo Jima off the coast of South Carolina . . .   
The map below lays out the approximate location of the vessels: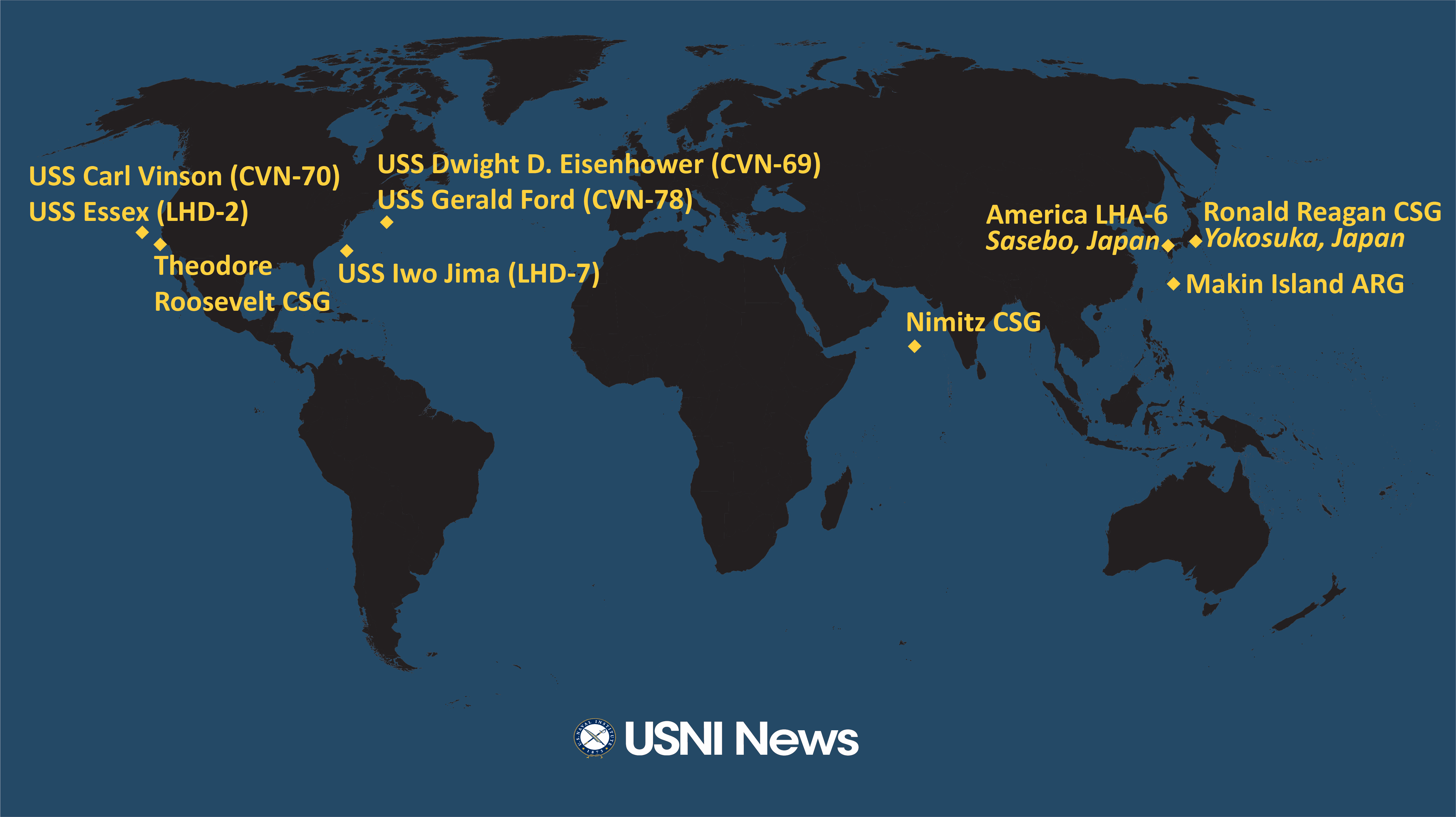 Given these new naval deployments, and the very large, sudden, movement of troops into Nellis AFB, one gets the impression that the United States is preparing to defend its homeland from actual invasion.