Mom Is Told to Go to Walmart After She Lost Her Home—But Watch When They Open the Garage Door
While many of us were spending our August soaking up the last of the summer rays or getting wrapped up in the election, the people of Baton Rouge were dealing with the worst natural disaster to strike the U.S. since Hurricane Sandy.
The horrific tragedy killed 13 people and destroyed over 60,000 homes.

Photo/YouTube
Among the many properties damaged was the Greater Baton Rouge Food Bank, a resource center that provides 10 million pounds of food per year to people in need.
The building was filled with over 5 feet of flood water, which destroyed over a half million pounds of food at a time when this community was in most need of it.

Photo/YouTube
"I mean that's our mission to help the less fortunate, and if you can't be there for them in that time of need, then what's the point?" said Costello Robinson, the bank's transportation manager.
Costello was one of 5 food bank employees who lost his home during the flood. He was caring for his sick mother when the storms hit, and they just narrowly escaped the rapidly rising waters.
"I had to carry her out through the water. We barely made it out," he said.

Photo/YouTube
Yvonne Farwell, the inventory control manager, experienced similarly devastating circumstances. Her and her family lost their home, car, and everything they owned.
They've been staying in a friend's RV until they can figure out a new living situation, which will be anything but easy.
"It's not like you've been saving for years when you first get married," said Yvonne.

Photo/YouTube
However, despite their own personal hardships, none of these employees missed a single day of work. And even though they lost their distribution facility, the food bank workers improvised by finding temporary spaces where they could hand out food from August through September.
When Walmart found out about these kind souls who were helping others despite their own loss, they wanted to do something big, really BIG.
They invited the workers to their warehouse for a Christmas surprise that left every last one of them weeping tears of joy. The food bank employees thought they were heading to a luncheon, but there was so much more in store for them than a free meal.
The Walmart workers rolled out cart, after cart, after cart overflowing with home goods, electronics, office supplies, bikes, toys, and MORE.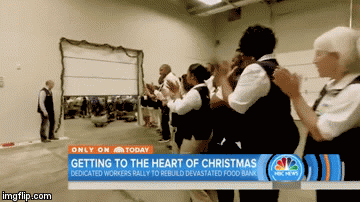 Each time the food bank employees thought the surprise was over, more shopping carts pushed by cheerful Walmart elves strolled out.
To top off the magical experience, Walmart provided each family with a $2500 gift card as well.
That's when the waterworks REALLY started rolling…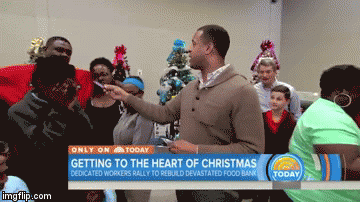 In order to aid the organization's future efforts, Walmart also presented the Baton Rouge Food Bank with a check for $100,000, in addition to a $100,000 donation they recently gave to help with flood disaster relief.
The overwhelming experience was exactly the Christmas miracle that these sweet families had been praying for, and we're so glad they got it!
As Yvonne embraced the spokesperson of the spectacular giveaway, the expression of gratitude on her face said it all.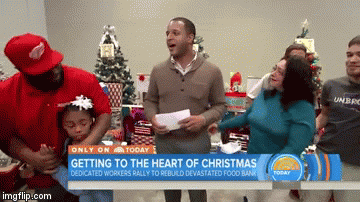 She added that her faith is what has kept her strong throughout these devastating circumstances.
"You find blessings in every single day," she said. "That's what keeps me the most sane, is finding something good out of the day that I can say, 'I'm thankful for this,' whether it's big or small."
Watch this heart-melting moment unfold for yourself in the video below: