Kevin McCarthy Just Took A Liberal Reporter And Absolutely Ripped Them To Pieces…
This poor, pitiful PBS reporter had no chance against Kevin McCarthy's America First wrath… Kevin McCarthy, I said. He's evolved into this ferocious fighter who takes no nonsense and stands up to the press unapologetically.
I never expected to see something like this happen in the Republican Party with someone like Kevin, but let me tell you, this guy opened up a can of whoop-a** on this lady, and it's one of the best things you'll ever see.
It all started with Kevin removing two traitors from the Intel Committee, Schiff and Swalwell.
Axios reported:
House Speaker Kevin McCarthy (R-Calif.) on Tuesday formally removed Reps. Adam Schiff (D-Calif.) and Eric Swalwell (D-Calif.) from the House Intelligence Committee.

Why it matters: It's a controversial move opposed even by some of McCarthy's caucus members and a stark escalation of an ongoing tit-for-tat with Democrats over committee assignments.

McCarthy vowed revenge after Democrats and a handful of Republicans voted to remove Reps. Marjorie Taylor Greene (R-Ga.) and Paul Gosar (R-Ariz.) from their committees in 2021.
McCarthy's move comes despite opposition from some House Republicans.
Driving the news: McCarthy announced the move in response to House Minority Leader Hakeem Jeffries' (D-N.Y.) letter over the weekend pressing for Schiff, who was the top Democrat on the panel, and Swalwell to be kept in their seats.

"I appreciate the loyalty you have to your Democrat colleagues. … But I cannot put partisan loyalty ahead of national security," McCarthy wrote.
"As such … I am hereby rejecting the appointments of Representative Adam Schiff and Representative Eric Swalwell to serve on the Intelligence Committee."
The backdrop: McCarthy told reporters during a press conference on Tuesday that he would forge ahead with removing the two lawmakers over Swalwell's association with a Chinese spy and Schiff's promotion of the Steele dossier.

What's next: McCarthy is expected to hold a floor vote on kicking Rep. Ilhan Omar (D-Minn.) off the Foreign Affairs Committee, though that could face opposition from his own party.
Reps. Nancy Mace (R-SC) and Victoria Spartz (R-IN) have both stated their opposition to removing Democrats from their committees.
It's wonderful to see Adam crying over this move.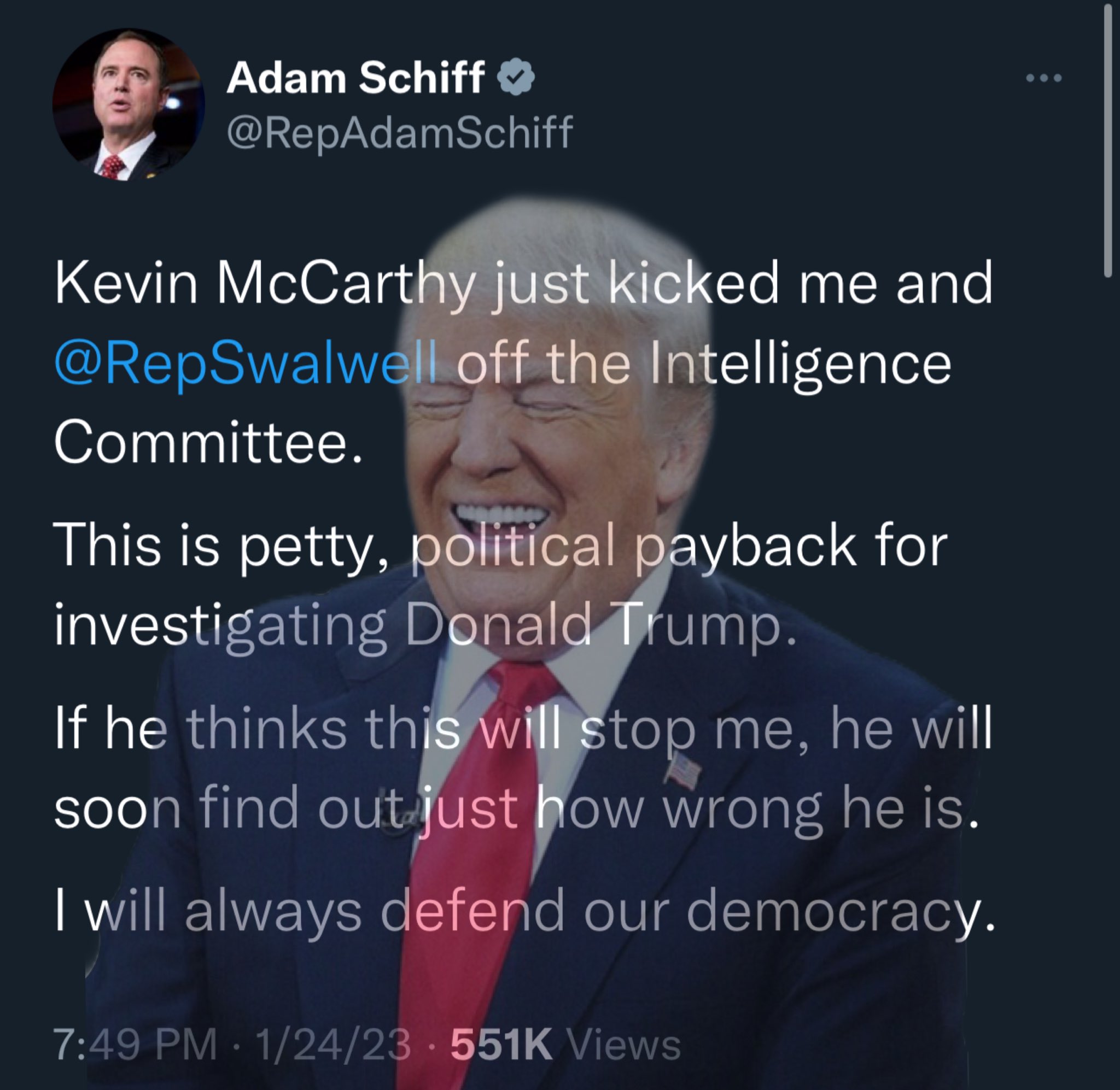 Now, bask in the glory of this amazing clip, where Kevin puts a liberal, fake news peddler through a wood chipper.
You can watch the video below:
Holy shit. Kevin McCarthy just absolutely destroyed a reporter who questioned his decision to remove Schiff and Swalwell from the intel committee.

Total annihilation.
pic.twitter.com/bIAhpkiG8Q

— Greg Price (@greg_price11) January 25, 2023
Okay, so this is the Kevin we've all been hoping for.
Now, I'm not saying I'm "sold" on him being a fighter all the time, but I'm optimistic and will be watching with bated breath.
So, how about you? What are your thoughts on Kevin 2.0? Is Marjorie Taylor Greene finally getting through to him?