Fisherman Reels In Heavy Object From Lake, Makes Discovery Of A Lifetime [PHOTOS]
When a mother's purse disappeared 25 years ago in Anderson County, South Carolina, she was upset she lost the valuables and family keepsakes that were inside. But decades later, something incredible happened: Her presumed stolen purse turned up in almost perfect condition.
On July 4, Ben Meyers and an 11-year-old family member were fishing from a dock in Lake Hartwell, South Carolina, when the child caught something heavy and excitedly reeled it in, thinking it was a huge fish.
"I get my net and he gets it to the top of the water, all of a sudden I see it's a purse," Meyers told WYFF. "I said 'man you ain't caught no fish, you caught a treasure!'"
Once they had it on the dock, Meyers opened it up and poked around inside. He pulled out some credit cards and store cards — some from companies that don't exist anymore — and immediately recognized the name, which belonged to a family friend of his. He got in touch with the woman and returned the well-preserved bag.
That woman is a resident of the area. WYFF identified her as April Deanhardt, although WHNS reported her name as April Bolt.
In 1992, she left that purse in her docked boat while she and her husband, Kyle Bolt, ate dinner with her parents. She was 32 and a new mom at the time.
She said that there were two fishermen nearby, but she never thought they would steal her purse.
But they did — or at least that's what she assumed. When she and her husband returned from the family meal, her purse had vanished.
"I was devastated, I was crying," April told WHNS. "I knew it was going to be a lot of work trying to cancel all my credit cards and license. The main thing was my little boy was 15 months old and all his pictures were in there."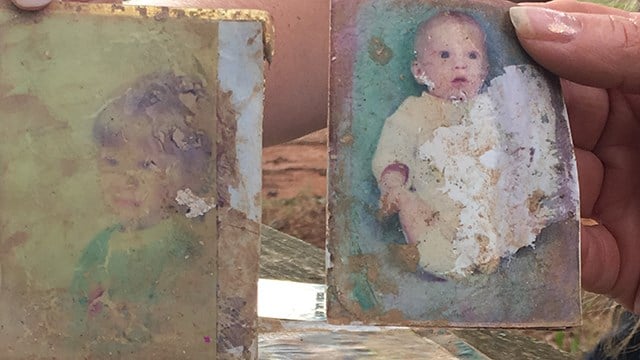 So when she learned a quarter of a century later that Meyers had accidentally reeled in the bag, she was ecstatic to see her possessions returned to her, even though the photos of her son have significant water damage from all those years at the bottom of the lake.
"It's quite humorous, considering the wallet, perfume, lipsticks, numerous credit cards from stores that were open 25 years ago, family pictures, 52 cents in change, a checkbook, a teasing comb, etc. — it's a serious time capsule!" April told WYFF.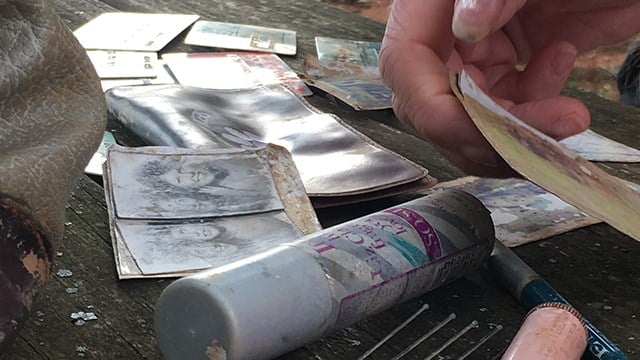 Photo credit: U.S. Army Corps of Engineers/Flickr, WHNS