Acts of Political Terror in the USA All Committed By Leftists [Last 111 Years]
The left has thrown a red herring into political discourse in this country.  They claim that domestic terrorism is a two way street and that both sides need to sing Kunbaya and I'd Like to Buy the World a Coke.  Political terrorism has been around since 1906 and one thing that has been consistent is that it is always perpetrated by the left.  And why not?  Conservatives don't have time for that nonsense because they work at jjobs.
At the turn of the 1900s, when American leftism adopted a more Marxist, class-conscious bent found in the socialist, communist, and anarchist movements that often overlapped, political violence kicked into high gear in the United States as it had in Europe. While the old continent succumbed to those leftist trends and incorporated them into its politics, the U.S. never quite did. But that didn't stop extremist groups from perpetrating a long list of acts of political violence, which continues from the 1900s-era anarchists all the way to the Occupy Wall Street and Black Lives Matter movements today.
1906 – 1911 Union Movement Dynamite Terror Campaign
Starting in 1906, the violent, left-wing labor movement in the U.S. began a campaign of terror bombings targeting American politicians and businessmen intended to force capitulation to union demands.
1910 Bombing of the Los Angeles Times HQ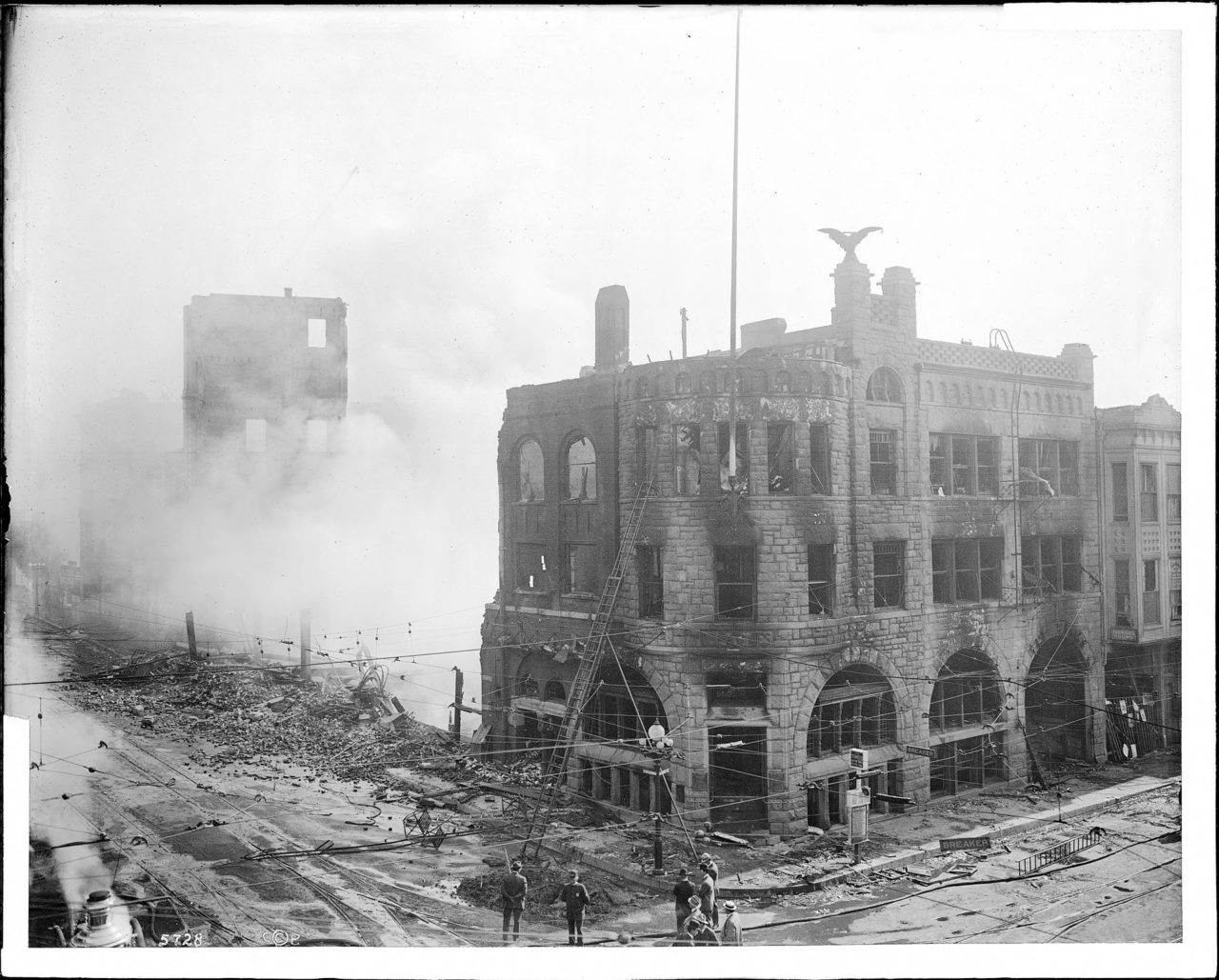 As part of that union terror campaign, the headquarters of the Los Angeles Times was practically destroyed when John and James McNamara, both active in the International Association of Bridge and Structural Iron Workers, set off a bundle of dynamite at the building. The explosion and fire ultimately killed 21 and injured another 100. The brothers became a cause célèbre, with their innocence an article of faith on the left until the pair admitted their guilt in detail.
1919 Anarchist Bombing Campaign
As the various anarchist and socialist groups grew in numbers in both Europe and the U.S., violence became a central part of their effort to win power and the year 1919 brought America a string of bombings meant to coincide with the Communist celebration of May Day.
In total, 36 dynamite bombs were sent to American politicians across the country. No one died from the bombs as most were stopped by authorities, but a maid working for Georgia Senator Thomas W. Hardwick had her hands blown off when she opened the package that the senator received. The senator's wife was also seriously injured by the explosion.
That wasn't the end of the 1919 campaign. In June of that year, the anarchist groups detonated bombs in eight American cities. Several lost their lives during this campaign.
1920 Wall Street Bombing
Another anarchist bombing occurred on September 19, 1920, in New York's financial district killing 30 and injuring another 143.
Communists Killing Each Other
There was also much intrigue and murder inside the American communist scene itself as American members of the U.S. Communist Party became disillusioned with communism in Europe, especially that in the Soviet Union. Two lamented communists are notable here.
Born in 1886, Juliet Poyntz was an early activist in the American socialist movement. After first becoming active in the labor movement, Poyntz became fascinated by the Russian Revolution siding with the communists. By the 1920s, she had joined the Communist Party of the United States and became instrumental in the Friends of the Soviet Union. Then, in June of 1937, Poyntz left her hotel room in New York City to meet a Communist friend in Central Park but after entering the park she was abducted and then disappeared without a trace. No hard facts are known of her demise, but it has been theorized that she was eliminated by the Soviet State Political Directorate (G.P.U.) and either shipped off to a gulag in Russia or murdered here in the U.S.
Lovett Fort-Whiteman became famous in the U.S. and abroad as being one of the first black Americans to become an ardent communist. He became so well known that he was dubbed "the reddest of blacks" by no less than Time magazine.
Fort-Whiteman became such a booster of communism that he eventually moved to the Soviet Union to take his place as a Soviet operative. When first arriving in 1924, Fort-Whiteman was celebrated as an important American activist. However, by 1937 the Communists had succumbed to a wave of paranoia. Fort-Whiteman was charged with being a spy and eventually sentenced to five-years hard labor in a Gulag in the Soviet Far East where he died of malnutrition and neglect, his teeth kicked out of his mouth, in 1939.
Political Assassinations
A series of political assassinations occurred nearly all at the hands of leftists. As it happens a large number of politicians murdered in the U.S. after 1900 were killed at the hands of leftists.
To list just a few of the many political assassinations in the U.S. after the rise of the political left:
President William McKinley was assassinated by self-professed anarchist Leon Czolgosz in 1901.
Idaho Governor Frank Steunenberg was killed in 1905 by members of a mining union.
Chicago Mayor Anton Cermak was shot in 1933 by an anarchist during a speech being given by President Franklin Roosevelt. Many believe Roosevelt himself was the intended target, but he was unharmed.
Long Beach, New York, Mayor Louis F. Edwards was assassinated by members of the police union in 1939.
President John F. Kennedy killed by Lee Harvey Oswald, a communist in 1963.
Senator Robert F. Kennedy killed in 1968 by Sirhan Sirhan, a mentally unstable Palestinian.
Lynette "Squeaky" Fromme attempted to assassinate President Gerald Ford in 1975. A member of the infamous Manson Family, Fromme used her trial as a platform to discuss environmental issues.
The Black Panther Party
In October of 1966, black activists Huey Newton and Bobby Seale founded the Black Panther Party. The pair claimed the group was started for the self-defense of the black race. Its ideology was based on black nationalism, Marxist rhetoric, and revolutionary socialism. The group was violently anti-police and anti-Semitic. Whatever the original intent, the group soon broke down into gangster activities and perpetrated a series of murders and engaged in drug dealing.
The Weather Underground
The communist-inspired Weather Underground (WUO) operated between 1969 and 1977 and aimed to foment revolution and was not averse to perpetrating bombings to achieve that goal. It was an offshoot of the socialist college group, the Students for a Democratic Society. WUO perpetrated several acts of terror. In 1970, San Francisco policeman Brian V. McDonnell died in an unsolved bombing that many suspect involved Weathermen. Three of their own members also lost their lives when a bomb prematurely detonated in a Greenwich Village townhouse in 1970.
The Symbionese Liberation Army
Between 1973 and 1975 the Symbionese Liberation Army, which styled itself as part of a rapidly aging "new left," kidnapped Hearst newspaper heiress Patty Hearst and embarked on a campaign of terror. In one incident in 1973, the group killed African American Oakland school superintendent Marcus Foster. The group also robbed several banks and got in shootouts with police, including one in Los Angeles that witnessed 10,000 bullets fired and a half-dozen SLA members killed.
FALN Terrorism
Starting in 1974 the FALN, or the Armed Forces of National Liberation of Puerto Rico, launched a campaign of terror to force the United States to bestow independence on its Island Protectorate. FALN took responsibility for about a dozen bombings between 1974 and 1979, one of which was the Fraunces Tavern bombing in New York City in 1975, which killed four and injured more than 40 others.
Ted Kaczynski, the Unabomber
Ted Kaczynski was an anarchist with leftist, neo-Luddite, and environmentalist views who launched a 17-year bombing campaign starting in 1978 that killed three and injured 23 more.
Environmental and Animal Rights Terrorism
Eco-Terrorism and animal rights activists have also been responsible for numerous acts of violence starting in the 1970s and continuing right up to today. Members of groups such as the Animal Liberation Front (ALF), the Earth Liberation Front (ELF), Greenpeace, the Sea Shepherd Conservation Society, People for the Ethical Treatment of Animals (PETA), and Earth First! have all been identified as perpetrators of acts of terror over the last 30 years by the FBI.
Again, this article is by no means an exhaustive list of left-wing terrorism in the U.S. The record shows that terrorism in U.S. history has been largely a history populated by leftist activists. In fact, a 2001 report prepared for the for US Department of Energy Office of Safeguards and Security noted that, "Leftist extremists were responsible for three-fourths of the officially designated acts of terrorism in America in the 1980s."
The lineage of left-wing violence carries on right to this very day. We see it in the form of the so-called "Antifa" movement responsible for political violence on the nation's college campuses, as well as the Black Lives Matter movement which has been responsible for a string of riots over the last five years after the death of Trayvon Martin in 2012. But it was also seen in the riots and property destruction wrought a year earlier by the short-lived Occupy Wall Street movement.
There is also a growing list of violent acts being perpetrated by liberals in this era of Trump and at least 30 acts or threats of violence have already been committed against Republican politicians.
Without a doubt, ideologies other than leftism have been at the root of political violence in America. There was the anti-government bombing in Oklahoma City in 1995 committed by Timothy R. McVeigh. We also saw the case of murderer James Charles Kopp who was goaded by his opposition to abortion when he murdered a physician in 1998. And then there is the 2014 case of Matthew Frein who shot two Pennsylvania State Troopers to "spark a revolution." These acts are arguably not based on left-wing ideals. But, the number of acts of terrorism committed by Americans holding views other than leftism pales in comparison.
So, when celebrities such as Kathy Griffin, Madonna, Robert De Niro, and Johnny Depp echo calls for political violence, they are bowing to well over 100 years of left-wing terrorism perpetrated in the United States.
My thanks to Breitbart News that Provided the list of terrorist acts.